A next-generation technology able to realize new Hot In-place Transforming®, different from the conventional Hot In-place Recycling.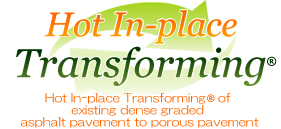 HITONE® is our new machine utilizing the world's first innovative technology with patent applications filed by Green ARM. This technology makes now possible Hot In-place Transforming® of existing dense asphalt pavement into more superior porous pavement. In 2004, the HITONE® project was granted by the New Energy & Industry Technology Development Organization(NEDO)as the Global Warming Counter-Measure Evaluation Project in the Private Sector and has since then been jointly developed with the following companies* listed below.
HITONE® has been developed combining the accumulated technologies of many years and experiences of the experts in such areas as material science and process engineering.HITONE® has received considerable attention and very high expectations for not only the innovative perspective of this technology but also its economic and environmental advantages.
Change of the future road pavement construction using HITONE® is now possible.
*Green ARM, Hitachi Construction Machinery, Sumitomo Construction Machinery Manufacturing, Showa Shell Sekiyu, Hikari Kogyo, TDE Corporation, Pontech Corporation


Click here to download the HITONE® Brochure.


(PDF file:400KB)